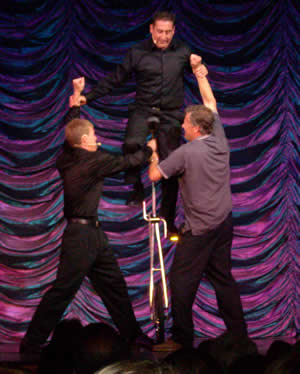 Armed only with carrots, bowling balls and raw eggs, these warriors of wit, demons of dexterity, these creatures of comedy are ready to take on any audience. Their performances have taken them everywhere from Asia to Europe and all throughout the Americas as well as standing ovations in six of the seven seas. They've entertained packed houses in casinos, colleges, comedey clubs and cruise ships, and those are just the 'C's.
Their prize winning act has gotten them tipped by the likes of Carol Burnet and Superman (Christopher Reeve). They've passed clubs around Tom Cruise and juggled Bowling Balls over Dustin Hoffman. These professionals have opened for Robin Williams, been in the same room with Tony Bennet, and even smelled Carol Channing.
The team contains former footbag legend and international juggling champion Tim "James" Kelly who also currently teaches juggling in his spare time at the San Francisco Circus Center. While not being a champion himself Robert "Wilde" has spent his time more wisely, working on his acting chops getting him into commercial, print, and movie work. Together these two will make any event a success!